I have two floors in my house that are ugly beyond words, my entry and kitchen. I have hardwoods throughout the rest of the house but after seeing these, I would tear them all out and do this…
Little Green Notebook/Coastal Living
Jenny even gave a place for tools that could make this look possible.
Then over at Quarry Orchard they did a little DIY hardwoods themselves that may be a little easier projects…
You probably won't believe me, but that is stained PLYWOOD! Who would have thought plywood could look that good?
This is what I'm living with (notice the peeling)…
Shield your eyes, I know it hurts. It's linoleum (gasp…choke) but I'm actually considering replacing it with linoleum (gasp…choke again) . I know it sounds REALLY cheap but would it really be that much worse than what I already have? Linoleum might be an inexpensive band aid until I can figure out what I really want.
A black and white checkerboard wouldn't be bad…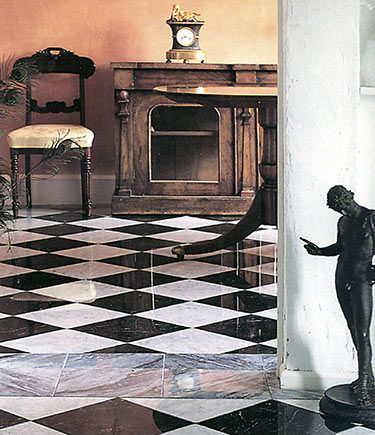 Source Obviously that's marble, but you get the idea…
Which do your prefer? Wood or checkerboard?